For as long as I can remember conceptually and practically analyzing politics, I have been a Libertarian. It has always made sense to me. I believe in liberty, I believe in the inevitability of the human condition, and I believe in promoting personal responsibility; that's why I started this blog and I'm sure the majority of our readers share similar values to myself and the other contributors.
So, along with my Libertarian values, I unconsciously inherited a very constitutional perspective on gun control. Liberty and the right to bear arms; the two are mutually exclusive. I can even remember myself arguing, "We shouldn't have to give up our guns until the government does." Classic.
And as much as I still love my choice of political affiliation and believe in its potential; the truth is, I've come to a substantial realization. There is absolutely no direct correlation today between access to guns and liberty.  And that's not to say it's not within our rights granted in the Constitution, but the glorification and over appreciation for this right is not directly correlated with our freedom.
Let me say this differently…the promotion and ease of access to guns is not the best part of our democracy, it's the worst. The Second Amendment was implemented in an effort to protect individuals from a tyrannical governmental body. But we have merely adopted the thoughts and ideals of great men and formulated them into what we think there ought to be. (When I say we, I mean our gun-enthusiast culture). This aforementioned culture is reflective of our inability–legislators included–to decipher and comprehend these rights that we have been granted in literal context. 
We live in a pseudo-modern society. I say pseudo with a  sarcastic inflection because in order for this to be a modern society, there would be no one fighting for their ability to wield an instrument of death which they know if placed in the wrong hands, could put any innocent man, woman, or child in danger. Just because one is a promoter of individual liberty does not mean they have to take a blind eye to what's best for our society. In fact it means the opposite. One should be looking out for their families and their own best interest. And can you guess what that is? Limited access for the general public to acquire and utilize guns. You know why? So you and your family don't get shot by a crazy person.
In most of my political opinions, I oppose governmental intervention almost at every turn. Sometimes its because I don't think they can do things effectively. Sometimes it's because I worry about the implications it may have on my liberty. But to their credit, one thing the government does well is propagandize. And a federal program demonizing gun ownership, condemning the culture—similar to the efforts against drunk driving in recent years—would be effective just because it makes the issue prevalent.
As far as I know, "The United States of Amnesia" is a term coined by American essayist and novelist Gore Vidal in his collection, The Last Empire. Vidal was using it in reference to our inability to appreciate literary genius because of our short attention spans. I'm using it to reflect our inherent lack of action in reference to the 30,000 deaths a year we inflict upon each other. 30,000; doesn't that sounds more like a disease than a policy issue?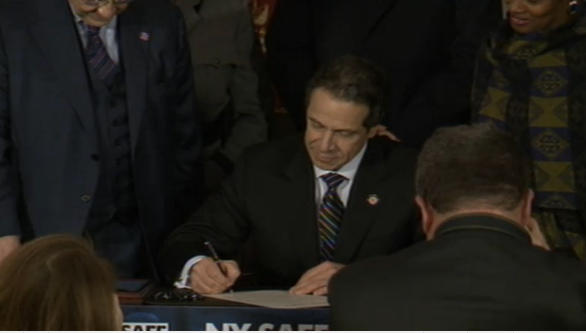 Today I'm proud to be a New Yorker.
"It always seems impossible until its done"- Nelson Mandela